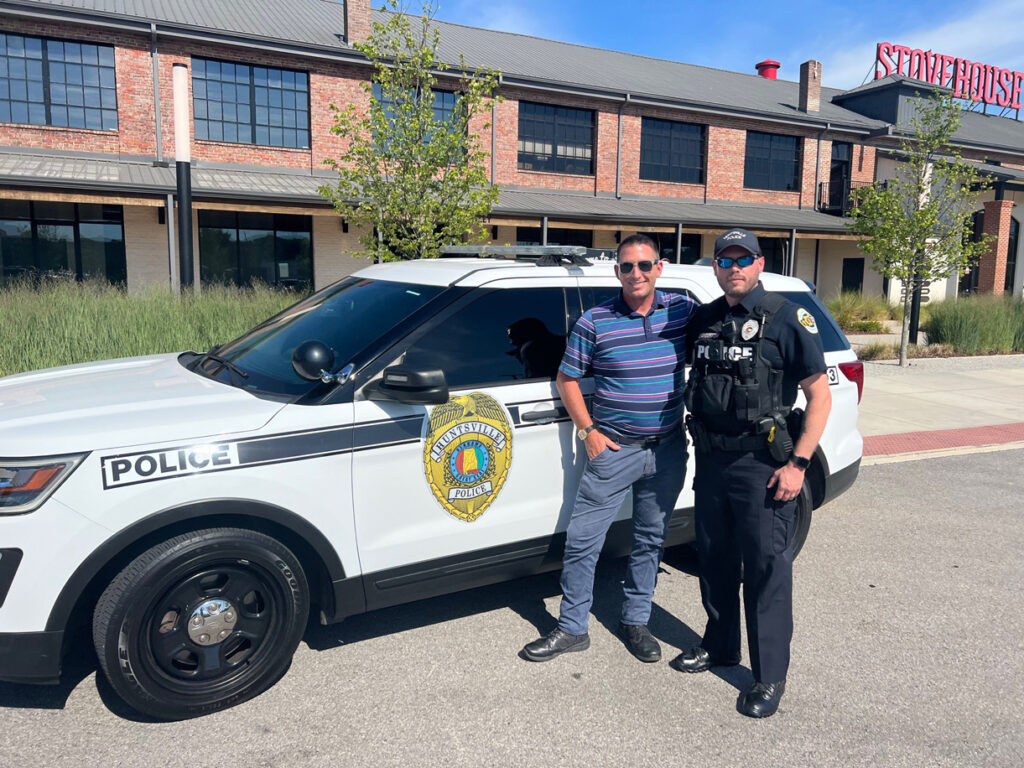 "As a therapist we're used to talking with people as crises are developing, or in the aftermath, but as a co-responder you're there right in the heat of the crisis. The inside ability it gives you is phenomenal. It's a unique and rare opportunity," says WellStone co-responder William Justin Holmes.
Holmes served as a therapist in WellStone's Adult Outpatient Services before starting the role as co-responder last year.
"It's the best job at WellStone. Definitely the coolest job," he says.
WellStone's co-responders (graduate level therapists) accompany Huntsville Police Department (HPD) patrol officers on mental health related calls.  Holmes is one of four co-responders employed through WellStone.
HPD Patrol Officer John Anderton, accompanied by Holmes on a weekly basis, loves sharing his squad car. "At the end of the day, I know they're gonna get the help that they need," Anderton says about working with Holmes to help those in crisis.
Before WellStone's Co-Responder Program started in 2021, mental health and substance use related distress calls were answered by patrol officers with limited resources. "With the average police officer, the only time you can take someone [out of the situation] is with charges. But it's not a criminal situation. Now they can call a CIT officer," said Holmes.
The CIT officer (learn more about CIT officers) has learned how to respond helpfully and appropriately within the moment.
Holmes also emphasizes that taking someone to the hospital is not the initial goal.
"That's a last resort," says Holmes. "We're coming out, we're deescalating the situation, then we're trying to help link them to services that are applicable and needed."
The goal, first and foremost, is crisis de-escalation. This means getting the individual to a calmer state of mind through compassion, listening, and genuine care.
Holmes says, upon arrival, they have to immediately assess the individual. "Is this person just having a bad day and would benefit from a (therapy) appointment, or is this person in crisis and would benefit from a visit to the crisis center (WellStone Emergency Services)?" These are the kinds of questions that Holmes is trained to answer.
"If someone is in need and would benefit from WES (WellStone Emergency Services), I would always encourage them to go. Crises look different for different individuals and what may be minimal to you could be over the top for someone else. Thus, if they are willing, I would always encourage WES if it is the appropriate level of care. That's one of the benefits of co-responders: being able to assess the crisis and determine the appropriate level of care," says Holmes.
"In this day and age and where we're at. I think it's a critical role. It used to be that police officers were very limited. [But] actually having a therapist in the vehicle with you?" According to Holmes it's a game changer.
The role of the CIT officer in crisis situations and the commitment of the department to compassionate and trained mental healthcare responses can't be understated.
WellStone co-responder Holmes brags on Officer John Anderton, "John is a very good CIT officer. He does very good at de-escalating and dealing with those people that maybe aren't doing good, that need our help."
Officer Anderton serves with HPD as a designated Crisis Intervention Trained (CIT) Officer. While all officers must undergo some level of training in responding to mental health related calls when joining the department, Officer Anderton is one of several officers who have opted for in-depth training to respond to calls with care.
For the past 12 years, Anderton's son has struggled with mental illness. It's the reason he's here, in this position. "Compassion is what you need when you go on these calls." The officer feels he has a connection with individuals in distress because of his son.
"I wanted to make a difference out here. And not just immediately think, 'this person did this or that, they need to go to jail," says Anderton.
He describes responding to individuals in distress: "You get there on scene, you try to talk to them, try to find common ground. I pour my heart into every call. I enjoy going to them. I really, thoroughly enjoy it."
The co-responder model employed in Huntsville is something for citizens to be proud of, to share, and to invest in.
Holmes states, "I think we're above the curve in regards to mental health. There's some other states that have co-responder models, with huge successes by the way," he says as a general encouragement on the nation's direction in mental healthcare.
"I think it shows Huntsville is definitely moving in the right direction," says Holmes.