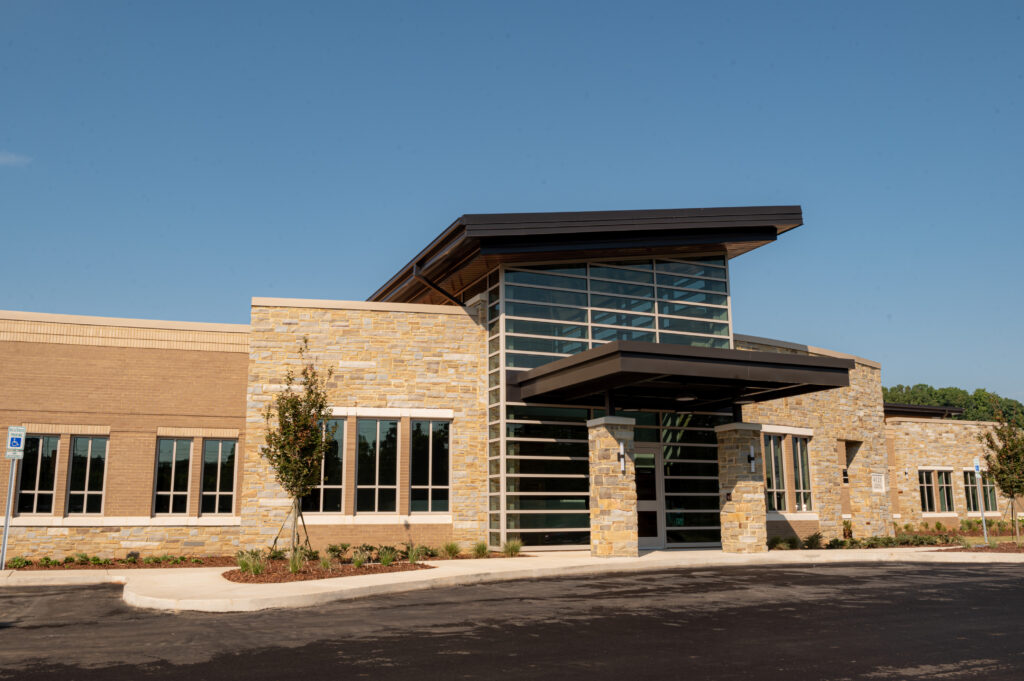 To access services, visit WES at 4020 Memorial Pkwy SW, Huntsville, AL 35802 or call 256.705.6444, Option 1.
"The social worker in me sees things from a systems-perspective. And as a systemic solution? This hits all the marks," says Paula Steele, Director of WellStone Emergency Services. "WellStone Emergency Services, or simply WES, is a new and holistic way to address mental health and substance use crises."
New to North Alabama's clinical landscape, this 24/7/365 center for mental health and substance use emergencies delivers a layered, compassionate solution to individuals in crisis. View WES Overview.
The 25,000 sq. ft. facility is located at 4020 Memorial Parkway SW, next to WellStone's main Huntsville Campus. WES is staffed by an experienced team that includes a psychiatrist, intake assistants, therapists, care managers, certified peer support specialists, LPNs, RNs, CRNPs and more. These professionals are trained, individually and as part of the team, to support each client.
Experts have long agreed that people who are experiencing a mental health or substance use crisis need intentional assistance. An individual who visits WES will see a psychiatrist within a few hours. Beforehand, they're being seen by other mental health professionals, not just waiting around. The recovery process begins the moment they walk in the door.
Steele describes the approach of care delivered by WES staff: "You're a part of the team. You're pulling up a chair to the roundtable and you're having equal input as to what's going on in your life. Also," she continues, "you get the feeling that our staff is just a group of fellow human beings; we're here to help you. Almost like you are getting your own professional team and cheering squad in one."
"When you walk in the door, you feel this positive energy," says Steele. WES provides a calm environment and natural lighting, designed from the ground up with clients in mind.
Prior to the development of an emergency care program, there wasn't an appropriate option within the mental healthcare continuum for individuals in crisis, whether that crisis be suicidal ideation; an overuse or misuse of drugs or alcohol; or extremely adverse effects from a mental health condition due to an individual's lack of access to their regularly prescribed medication.
"For someone in crisis, there were only two options: you were either going to go to jail or you were going to go to the emergency room," says Steele. "And it just wasn't working."
For years, emergency rooms and area jails have experienced overcrowding. Too often, these individuals went without receiving appropriate, clinical help. There had to be a better way.
WES may be new, but it's been years in the making. The mental health continuum of emergency care has long been lacking. Eight years ago, Jeremy Blair, WellStone CEO, began to share his vision for better crisis care in North Alabama.
"There were seven years of advocacy, talking to legislators, policymakers, government officials and local partners leading up to the funding for WES." says Steele.
Alabama Department of Mental Health Commissioner Kim Boswell stated at the center's ribbon-cutting ceremony in September, "Jeremy was one of the first to step up to develop crisis services. Actually, he started the conversation before the department did. So, when the first RFP [Request for Proposal] for crisis services came out [from the state of Alabama], Jeremy was ready."
WellStone was one of three centers in the state to receive initial funding for a crisis care center, with the other two being in Mobile and Montgomery. Now, two more centers are scheduled to open in the state within the next year.
Read more from our state leadership on the mental healthcare system in Alabama in this recap of WellStone Emergency Service's ribbon-cutting ceremony.
"There's not people with mental health and people who don't have mental health. We all have mental health needs," says Steele. "There's only so much any of us can cope with," she continues. And when we're thrown more than we can handle beyond our ability to cope, then we're in crisis. And that can happen to any of us."
And "mental health is just as important as physical health," asserted State Rep. Nathaniel Ledbetter at the facility's ribbon-cutting ceremony.
"We are coming from a perspective of recovery and a message of hope. We want individuals to come in and feel like they have, first, made a good decision. We want people to understand that this crisis is just a moment in time, and we are part of their team and support network to help them through this time and empower them to find hope in their situation," says Steele.
Also on the horizon: A pediatric wing, which will be located adjacent to the main center. Scheduled for completion fall 2024. There are currently no inpatient beds for pediatrics in Madison County.
WellStone has received more than $1 million from the community to support the new center for WES. Please give to our "Be the Rock" Capital Campaign, and help us build a strong foundation of compassion, connection and community for those in mental health and substance use crisis. If you would like to consider a gift toward our capital campaign or learn more about our new crisis center and the individuals it serves, contact Director of Development, Karen Petersen, at karen.petersen@wellstone.com.
Together, we can build better mental healthcare in our community.
First published: Nov. 14, 2022 | Last Updated: Oct. 26, 2023