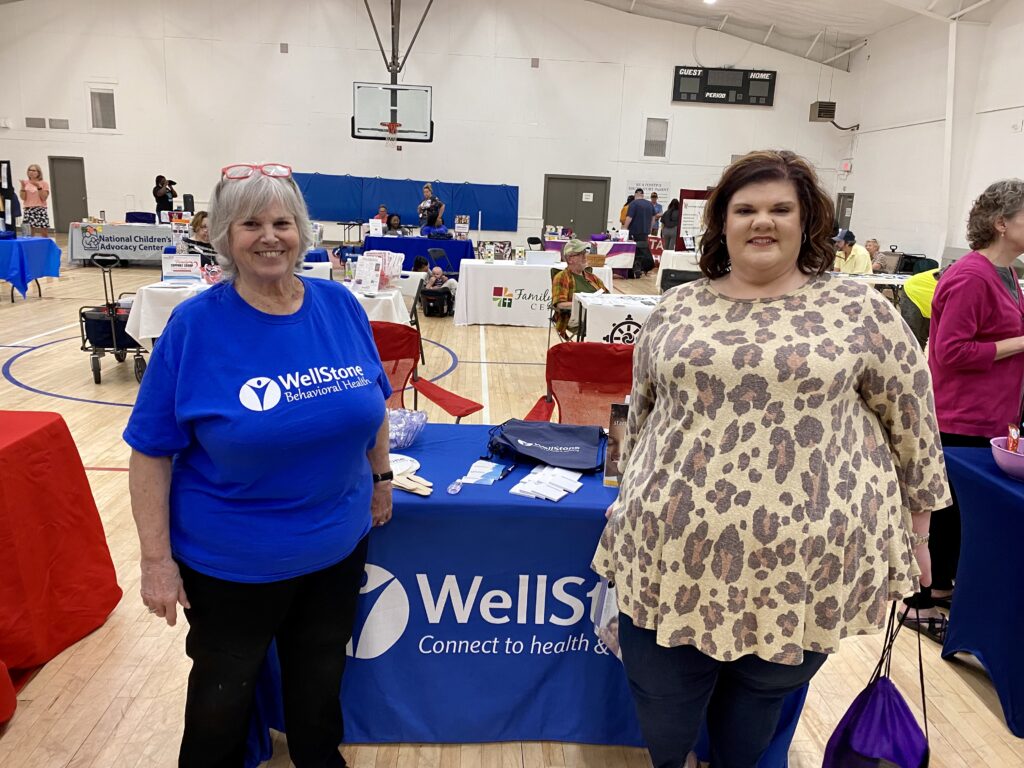 Recovery is not for a select few. It's not for "them," "that neighborhood" or "that family." Recovery is defined by the Substance Abuse and Mental Health Administration as "a process of change through which individuals improve their health and wellness." A definition that could apply to anyone and everyone.
During Recovery Awareness Month, WellStone—and other local organizations—are working to eliminate stigma associated with mental illness and substance use disorders (SUD) and encourage individuals to seek the help they need.
After all, getting help can not only change lives, but it can also save them. Just ask Cheryl McClendon, a Certified Recovery Support Specialist with WellStone Emergency Services (WES). Peer support specialists, like McClendon, have been successful in their own recovery and help others as they navigate similar situations and experiences. In short, they've been there.
"Making that first phone call is difficult for most people, but it is worth it," McClendon said. "Many people think their life is over when they put down alcohol and drugs, but really, it's just beginning. I have learned a lot about myself including self-worth and how to love myself. My family can count on me today and I have become the mother my children deserve. Today I have a life worth living."
There are numerous treatment programs and services available in our community, from residential treatment centers to outpatient programs, like the ones offered at WellStone. Each person's path is as unique as they are. Many people struggle with drugs and alcohol, but how do you know if you or a loved one needs professional help?
"If a person thinks they may have a problem, they probably do," said Judy Chaney, LPC, MAC, AADC, ICAADC lead Substance Abuse Therapist at WellStone's New Horizons Recovery Center. "Help is available with non-judgmental therapists that really care."
Mental illness and addiction are family diseases. While it's hard to be the one battling a mental illness and/or SUD, it's also extremely painful for loved ones. They often feel helpless as they watch friends and family members spiral out of control
"Life was chaotic at the end," McClendon shared. "I was always lying to family and friends about where I was, was usually in parts of town I had no business being in. I wasn't the mother my twins deserved. I was an opiate user and drank too much. I have often said my rock bottom had a basement with a trap door, and I am so incredibly grateful I made it out alive."
While stigmas related to mental illness and SUD are softening, much of society is still inclined to pass judgment. That's partly why McClendon is speaking out. She wants people to know that: "Recovery is possible. This (SUD) is a disease and not a choice. We are not bad people; we are sick and there is a way out."
That way out is often taken one day at a time, especially for those who follow the "12 Steps" in their recovery.
"Friends in recovery always told me to take life one day at a time. And it took a while, but I finally understood," she said. "I can't change yesterday; tomorrow isn't here yet; so, all I can focus on is what is in front of me right now."
That's also what WellStone's SA therapists relay to clients. While it's challenging work, it can also be extremely rewarding."
"The best part of my job is seeing the difference that our program makes in our clients' lives," said Chaney, adding, "Although the credit really goes to God and the hard work that each individual client does."
Whether you think you need help, or aren't quite sure, you can call WellStone's Access-to-Care Line at 256.705.6444. WellStone accepts walk-in assessments Monday through Friday during regular business hours. A conversation can't hurt, and it might just lead you toward a life that is so much greater than you ever imagined possible.
If you or a loved one is in crisis and don't know where else to turn, call 988 to speak with a trained crisis counselor. Those lines are answered 24/7. WellStone believes in support at every level of the mental healthcare continuum, from occasional outpatient therapy appointments to immediate, emergency intervention, along with long-term care and support for various mental health conditions or substance use disorders.