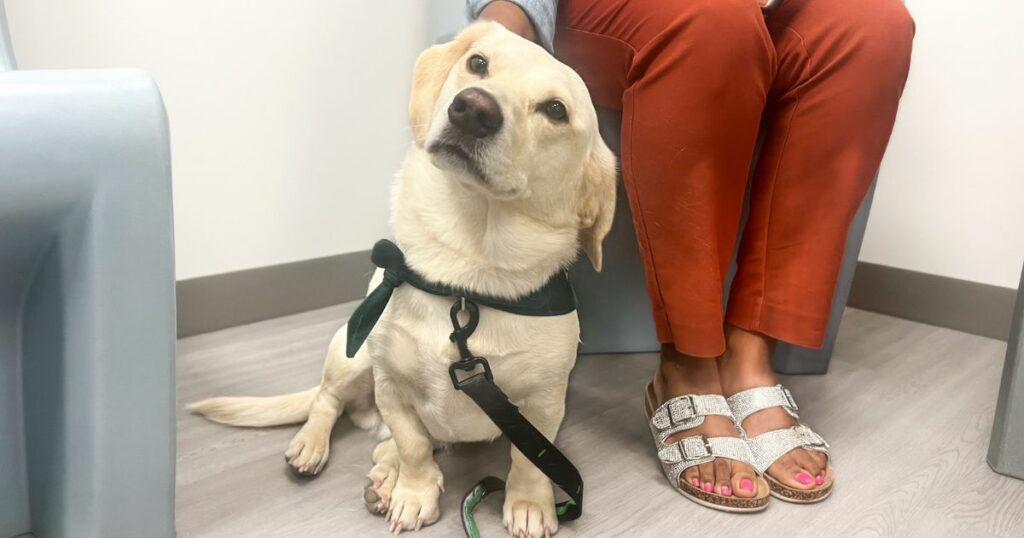 On International Dog Day—recognized annually on Aug. 26—we give a giant shout-out to all the great pups who help keep our mental health in check. Dozens of studies have shown that dogs (and cats!) can significantly improve mental health and well-being (here's an example). A pup's unconditional love goes beyond sloppy kisses and a game of fetch. Pets may also decrease stress levels, elevate mood, improve heart health, and even help children with their emotional and social skills. For seniors, dogs can diminish loneliness and help them maintain routines.  
At WellStone, we wanted to give a special nod of appreciation to the therapy dogs in our community. Usually, these dogs visit hospitals, senior living facilities, libraries, and schools. But with such clear mental health benefits, we asked Therapy Partners if they could add WellStone to their rotation. They recently started visiting campus.
We were thrilled when newly certified Mason and his handler (mama/trainer) Jennie Hudson came to visit our clients at WellStone Emergency Services, our inpatient care center for individuals suffering from mental health and substance use emergencies. These clients have often lost hope, but Mason seemed to remind them that there is light at the end of the tunnel. In some ways, he was the light.
"Getting to spend some time with an animal may seem like a small thing but it can really be a bright spot in someone's day, especially if they are having a difficult time," said Hudson.
"It was fun and uplifting for all of us to play with the therapy dog," added Monique Collins, a Mobile Crisis Team therapist at WellStone. "I could tell he helped improve everyone's mood. It was a great addition to our therapy because we were able to do something different that everyone enjoyed, even the staff. Many clients struggle with coping and Mason introduced a new way to cope with symptoms associated with mental illness."
Hudson has volunteered with Therapy Partners for about a decade. She was proud of Mason and the positive effect he had on his first day on the "job."
"The training and certification process is rigorous and can be lengthy, but it's worth it," Hudson explained. "The visit is the culmination of hard work on both our parts."
That hard work is paying dividends. "Thank you for making my day a whole lot happier," said one client as she parted ways with the Therapy Partners team.
Therapy Partners has also visited our group homes, lifting moods for adults living with serious mental illness (SMI).