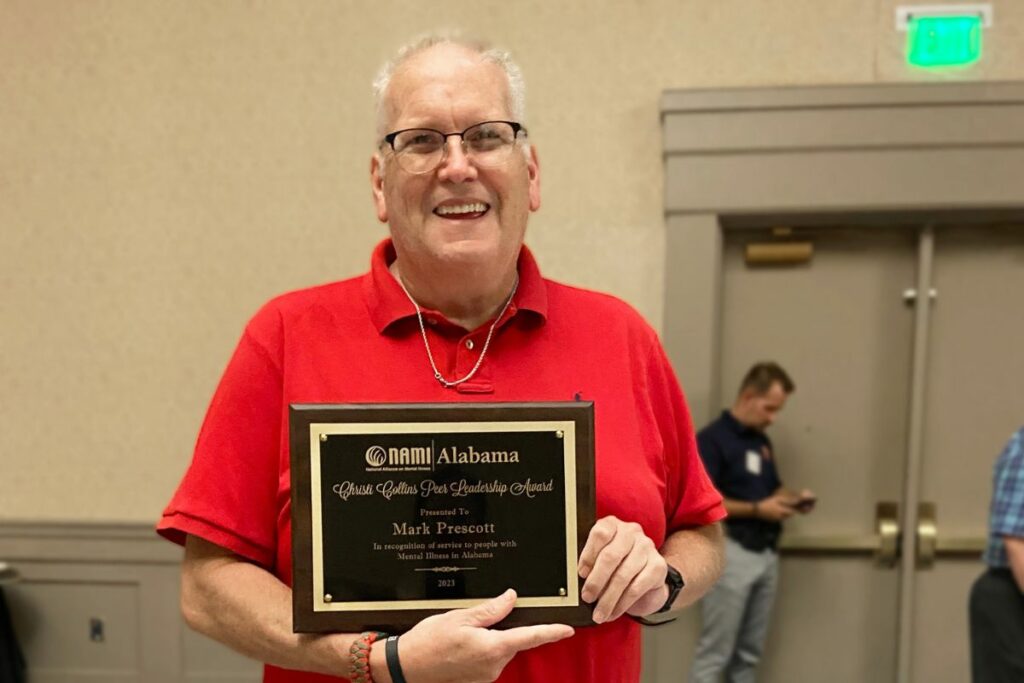 The 2023 NAMI Alabama Conference and CIT Summit was one to remember. The event was held in Florence last month, with the state's mental health spotlight shining brightly on WellStone, Huntsville, and key collaborators.
Mark Prescott, a certified peer support specialist at WellStone Emergency Services (WES), received the NAMI Alabama Peer Leadership Award. Prescott lived with his mental illness for 36 years before fully embracing recovery.
"My mindset changed from having no hope to having hope," Prescott explained. "My life started changing for the good about 10 years ago. I went from simply maintaining (my mental health) to wanting more out of life. That was when I began what I consider to be my recovery."
Prescott has put his personal experiences to work for others as a State Certified Peer Support Specialist for over a decade. He joined WES in June of 2022, providing peer services to individuals in mental health crisis.
"I share my story and let people know recovery is possible," said Prescott. "For many years, I thought I would never amount to anything. I found out that my story was impactful, and people could relate. That's when I realized I can make a difference by becoming a Certified Peer Support Specialist. I'm able to share 36 years of lived experience. Personal experience is something you cannot get out of a book."
Besides celebrating Prescott's recognition, WellStone is also applauding our law enforcement partners. John Hollingsworth, State Crisis Intervention Training Administrative Coordinator, named the Huntsville CIT program the State's CIT Program of the Year.
"This speaks to the dedication the Huntsville Police Department has for this program," said WellStone CEO Jeremy Blair. "We work closely with HPD through CIT training and our co-responders. It's a transformational and lifesaving partnership that focuses on intervention, prevention, and quality care. We've seen these officers work very hard to change the way the department views—and responds to—mental health and substance use related calls."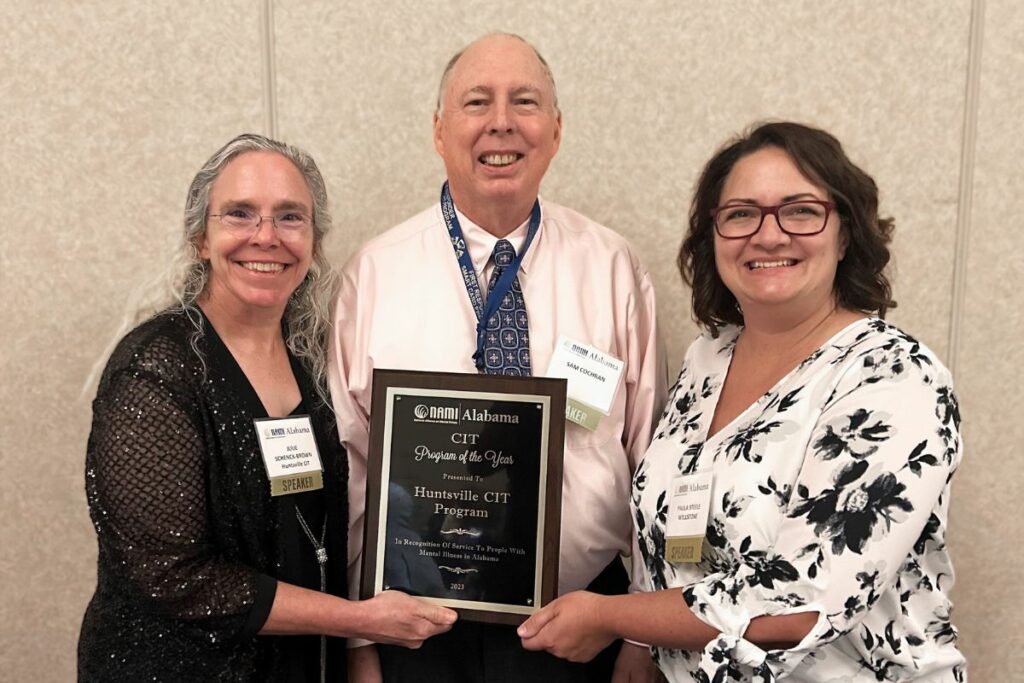 Michael Johnson, Deputy Chief with HPD, accepted the award on behalf of the Huntsville CIT program. Johnson is grateful his agency is making a difference in our community through the program, which requires extensive training and long-term commitment.   
"The Huntsville Police Department is committed to providing exceptional response to citizens suffering from mental health crises," Johnson said. "This recognition reinforces our work to help citizens through intervention strategies, alternatives and support measures."
It's these collaborations between nonprofit organizations, law enforcement, highly-trained mental health professionals, and dedicated employees, like Prescott, that can truly impact our community for the better.
"I do my job knowing that I make a difference in the lives of my peers," he said. "I'm a humble person who likes to work in the background, but if I'm able to make a difference in one person's life, I have achieved my goals. Changing people's lives for the better is what it's all about."
WellStone thanks Prescott, Johnson, and the men and women who work tirelessly to improve the quality of mental healthcare—and quality of life—for everyone in our community.