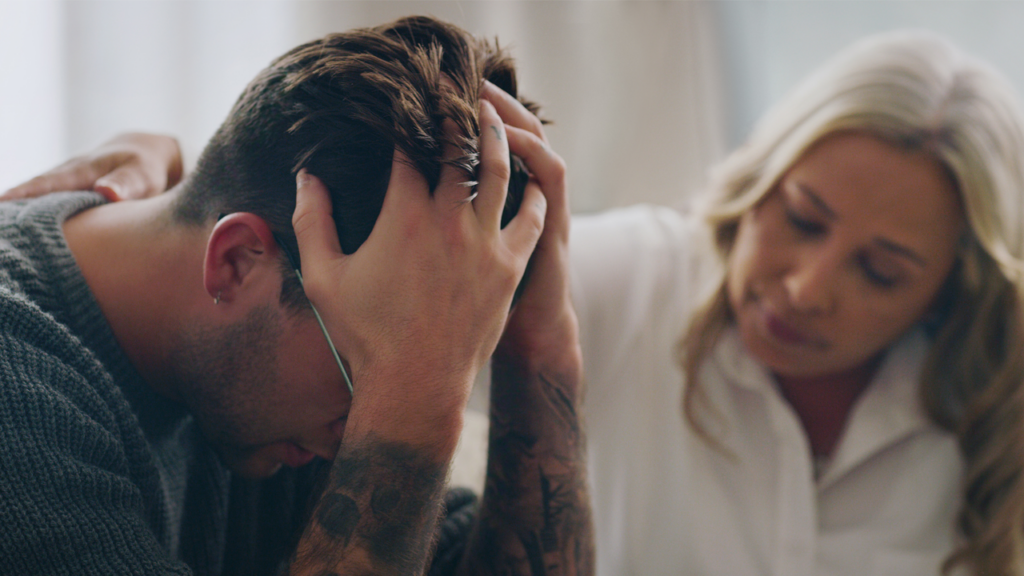 It's an emergency, but it's a mental health or substance use emergency. Do you go to the emergency room? Do you call 9-1-1? Do you schedule a counseling appointment six weeks out?  These are some of the thoughts that might be racing through your mind.
Mental health experts* say you should have three things in a mental health emergency: someone to call, someone to respond, and somewhere to go.
In Madison County — as of this year — all three of these services are available to you, 24/7, regardless of resources, through WellStone.
In a mental health emergency, there is someone to call.
Call or text 9-8-8 or chat  988lifeline.org to speak with a trained crisis counselor in your area.
Launched in July, the 988 Suicide & Crisis Lifeline is a national hotline connecting individuals in mental health emergencies to regional call centers. For callers in North Alabama, that call center is based at WellStone in Madison County.
With the launch of 9-8-8, there is now a designated, easy-to-remember number to call in a mental health emergency—available to every community. "With the goal of connecting people in mental health crisis with mental health services," says NAMI.
In a mental health emergency, there is someone to respond.
When a situation requires intervention, WellStone's masters-level therapists respond with Huntsville police officers from the crisis intervention team (CIT).
The key role of the mental health professional is to help assess and de-escalate the situation, and link the individual to appropriate services. Additionally, many HPD officers choose 40 hours of in-depth crisis intervention training, and all new officers must undergo at least 8 hours of basic training in the area. This partnership is called the co-responders program.
Huntsville is leading the way in mental health crisis care by collaborating to provide a team response to mental health related emergencies that includes mental health professionals.
In a mental health emergency, there is somewhere to go.
WellStone Emergency Services, or WES, opened its doors in fall 2022 as North Alabama's first 24/7 emergency mental healthcare center. Individuals experiencing a mental health or substance use emergency can access quality care from a team of compassionate mental healthcare professionals.
Located at 4020 Memorial Parkway, beside WellStone's main campus, WES provides an alternative to the hospital emergency department. It's also an opportunity to develop a plan of care moving forward — without a referral elsewhere.
With all three components of mental health crisis care in place, WellStone plays a key role in ensuring that individuals in mental health and substance use crises find access to mental healthcare services.
State and local leaders, collaborating agencies, corporate donors, and individuals have made this great work possible in North Alabama through their funding and support. If you would like to donate toward accessible mental health crisis care, click below.
If you or a loved one are experiencing a mental health or substance use emergency, call 9-8-8 or visit WellStone Emergency Services today.
*Experts from the Substance Abuse and Mental Health Services Administration (SAMHSA) and National Alliance on Mental Illness (NAMI). View blog article.
Link to Pew Charitable Trust's Nationwide Survey on 911 Call Centers and Behavioral Health Crises.